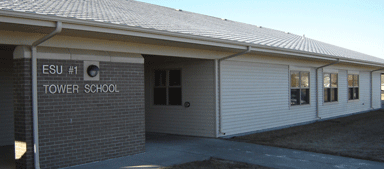 ESU #1 Tower School Level III Program
901 E. 14th Street
Wayne, NE 68787
Severe/Profound Program: (402) 375-3005
Behavioral Disorder Program: (402) 375-3011
Fax: (402) 375-1205
Tower School in Wayne, Nebraska, was built during the fiscal year of 1992-93 and provides contracted services to school districts in an alternative setting. The Tower School program consists of two specialized classrooms with students placed in classrooms based on individual needs.

The services Tower School provides focus on behavior modification, social skills, functional skills, daily living skills, job skills, transition skills and ultimately prepares students to be contributing members of society and experience success in a variety of settings.
Wellness Policy
Wellness Policy Assessment Results
Wellness Committee Meeting Dates
Wellness Promotion Resources
Sioux City Miracle League

Ponca Expo

https://www.education.ne.gov/ns/team-nutrition/nslp/nutrition-education/

https://www.education.ne.gov/CSH/

https://www.education.ne.gov/ns/forms-resources/national-school-lunch-program/wellness-%20policy/

https://www.cdc.gov/family/kidsites/index.htm

https://www.choosemyplate.gov/kids

https://www.nhlbi.nih.gov/health/educational/wecan/

Note: ESU #1 Tower School invites all potential stakeholders to participate in the development, review, update and implementation of our School Wellness Policy. Please contact Stuart Clark, SPED Director, by emailing sclark@esu1.org if you are interested in attending a meeting. Wellness Committee meeting dates are listed above.

Forms